We decided to have a quiet Thanksgiving this year. Our friend, Diane, has recently been transferred from her job in L.A. to the London office of her company and flew over to be with us.
We had a lovely meal with just us, Mom, Diane and Shmoo Alexander.
Strange things happened starting on Friday morning: On Thanksgiving, Shmoo had needed an extra walk and we decided to go along the road to Lavalenet, which we haven't been doing lately. One of the houses that way has a bitch who goes into heat all the time and there are always tons of dogs hanging around. We saw a very sweet looking border collie lying next to the driveway on her own.
Then, yesterday, Diane and I went out to visit friends and afterward I stopped in at Mom's. When I was coming out, I saw the same BC wandering around in the street. I called her over and she came right away, then I went back out to try to give her some treats but she had wandered off.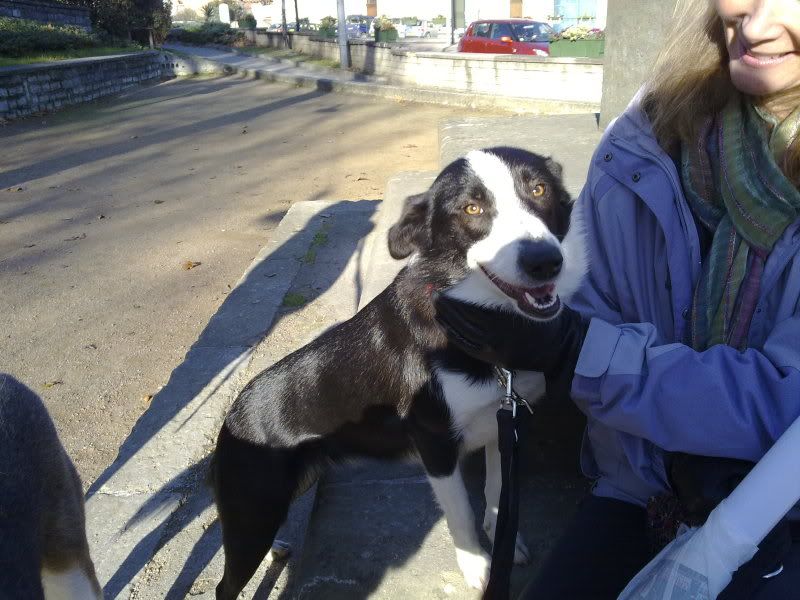 JM immediately insisted on going out to find her and took a few biscuits. She went to him as soon as she saw him and came home with him. I got a spare collar and leash and we fed her and after lunch I took her to the vet to see if she was chipped or tattooed. She was neither. I think she looks to be about 6 months old, the vet thinks 7 or 8 months but not more.  Her health is good, but she had severe constipation and we were worried she might have a blockage, but we gave her a laxative and she finally passed it this morning.
She is TINY. I would guess under 30 pounds and her head comes just up to my knee. You can see from the pics that she is pretty classically marked and is a smooth coat.  Incredibly affectionate; she practically wants us to wear her.
There are a few problems with Shmoo, but I'm hoping they will resolve them. Shmoo actually tried to play with her this afternoon, but she freaked out because she is afraid of him. I really hope that goes away.
Today, we took the two dogs to the Foire au Gras in Limoux. She is VERY good with other dogs, totally non-reactive. However, one of the Bandas (marching bands) turned into the street where we were and she totally freaked out! If we hadn't held onto her as tightly as we could, she would have been gone in the crowd. Note to self: buy a smaller collar ASAP!
We're all home now and resting, so hopefully things will improve daily.
And, how could I forget: her name is PEACHES!
Ciao for now
Randy